Ohio's #1 Team of Exterior Cleaning Professionals
The world of exterior cleaning is a surprisingly vast one with all different kinds of techniques, equipment, and products. At Clearview SoftWash, we're here to bring you the best of them in Mentor, Ohio. You can count on our team to restore the beauty of your residential dwelling or your commercial facility while providing unparalleled customer service from start to finish.
ABOUT US
We're ready to rejuvenate your home.
Some exterior cleaning methods are better suited to some surfaces than others. For hard, durable surfaces like concrete, we can perform traditional pressure washing to loosen dirt and grime. For more delicate surfaces that are covered in algae, mold or mildew, bacteria, and other organic contaminants, we provide soft washing. This is a gentle alternative to pressure washing and is safe for all exterior surfaces. Using water-based, biodegradable solutions, we wait for the dirt, grime, and contaminants to break down before washing it all away, leaving a sanitized surface behind.
We can clean all kinds of exterior surfaces, including your house or business's exterior, roof, driveway, deck, patio, siding, solar panels, windows, walkways, and more. Contact us today for a quote.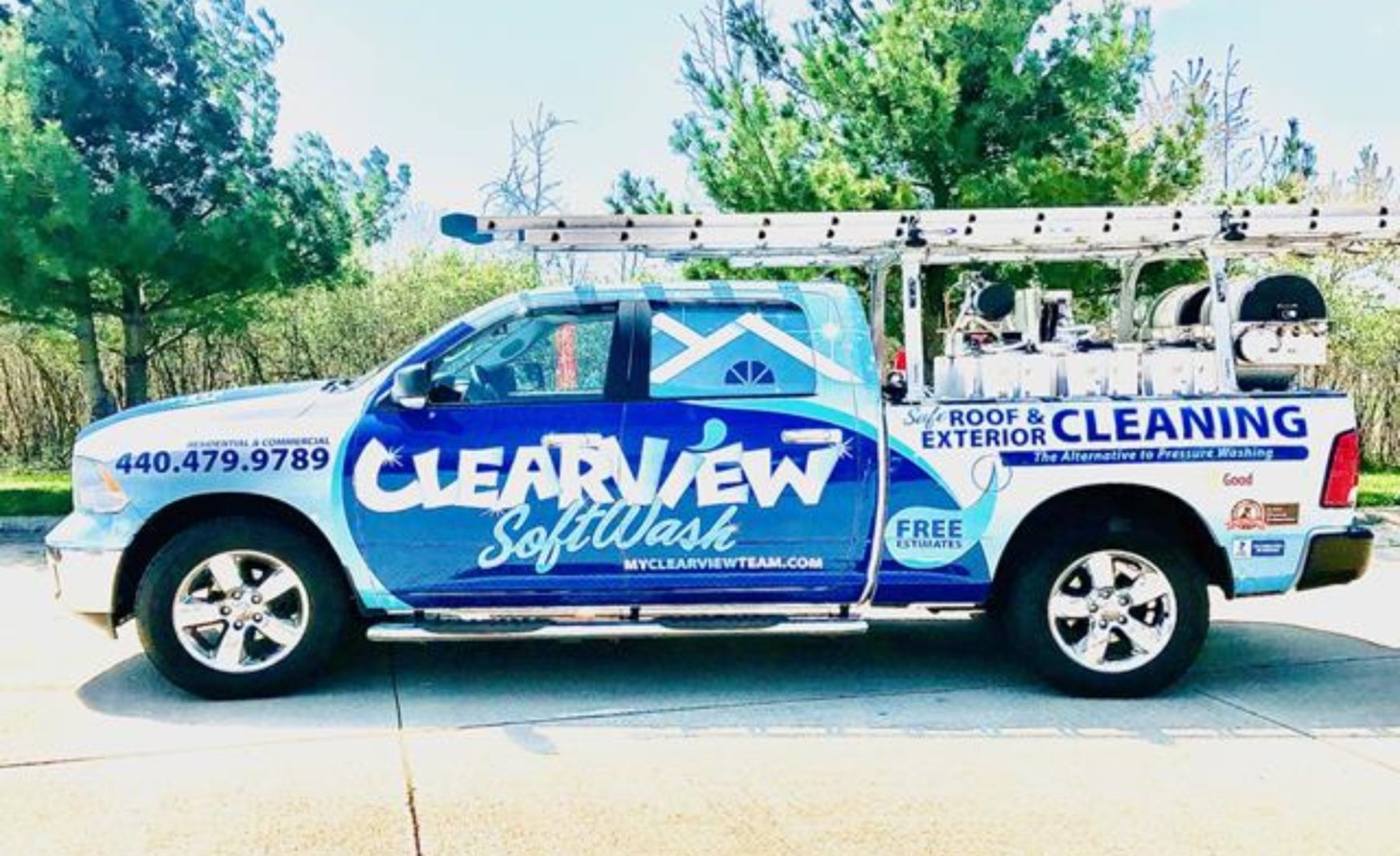 22 Years of Experience
We're proud of the reputation and relationships we have cultivated since our start in 2001, and we use our experience to produce the best results.
100% Satisfaction Guarantee
Your satisfaction is of the utmost importance to us, which is why we guarantee all our work. We are not happy unless you are satisfied with our service.
I had Clearview SoftWash clean the vinyl siding on my house. They crew was highly respectful of me and my property. I was very pleased with the results of their work and would highly recommend them to friends and family.
-Nick
Very pleased with the response when I called for the company's service. Courteous and approachable. They came out to do the job when they said they would and took care of the gutters and downspouts with no fuss.
-James P.
I was really impressed with the service from Clearview SoftWash. The gutter cleaning was well done, and they spent as much time as was needed to unclog all the downspouts. Overall, I would absolutely use their services again.
-Jess and Michael
Same Day Quotes
Providing fast, accurate quotes is important to us because we are as eager to boost your curb appeal as you are, and we want you to know what to expect.
Results That Speak for Themselves
We pride ourselves in offering the best service to all our clients. We have hundreds of 5-star Google reviews and counting!
WHAT YOUR NEIGHBORS
ARE SAYING
I love Clearview, because they arrive when they say they are going to be there on time, so you don't have to sit around all day wondering when they will be there. They do an amazing job, pressure cleaning and clean up after themselves, They can be counted on to go the extra mile and make sure you are happy with your service.
Could not be happier with Clearview Window Cleaning & Pressure Washing. They Courteous, efficient, and professional. I use them twice a year for maintenance and then sometimes before big parties. Nothing makes a home look better than a Clear View!
I could not be happier with the work that was done by Clearview. They are neat, clean, efficient and their work was unbelievable. I already plan on using them again for cleaning the siding of my house and other pressure washing. They do quality work and I will recommend them to anyone who will listen.
Frequently Asked Questions
What Is Soft Washing?
Soft washing is an alternative choice to pressure/power washing that does not make use of destructive high pressure. Soft washing extensively cleans surfaces as well as kills the microbes that are the root source of staining on roofings and also various other building surfaces.
How Do I Know Soft Washing Works?
Soft washing was created over twenty years ago. It has been extensively checked and it has actually been used in predominant Florida hotels, such as Disney, Universal Studios, and public setups. Additionally, over 100,000 roofings have actually been efficiently cleaned using Soft Washing.
Why Is Soft Washing Superior To Pressure Washing?
Soft washing gets rid of the microbes that create tarnishing, whereas pressure washing merely washes off the surface layer. Furthermore, soft washing does not use destructive high pressure, unlike pressure washing, and soft washing treatments last much longer than pressure washing treatments.
How Long Will A Soft Washing Treatment Last?
Generally, a soft washing treatment will last at the very least 4 times as long as pressure washing, before tarnishing reoccurs. In many instances, our treatments last much longer than one year.
Why Is It Important To Eradicate Microorganisms?
Microbes such as mold, mildew, algae, lichen, and bacteria are accountable for the majority of discoloration on roofing systems as well as other surfaces. In addition, results of the metabolism of these microorganisms is acidic, and also destructive to surfaces such as roof shingles. Eradicating these microorganisms protects against staining and enhances the durability of roofings, fencings, and also decks.
Is Soft Washing Safe?
The cleansing remedies made use of in our SoftWash System are 100% eco-friendly and have extremely low VOC (volatile organic compounds) emissions. Our cleansing services are non-toxic and will not release any type of dangerous chemicals into the area surrounding your property.
Is Soft Washing Environmentally Friendly?
Soft Washing is even more eco friendly compared to pressure/power washing, for the following factors:
All of our cleaning solutions are 100% eco-friendly.
Our cleansing options have extremely low VOCs.
We only use 1/3 the water of pressure washing.
Our cleanings last four to six times longer compared to pressure washing, so cleaning is not required as frequently.
Our SoftWash Systems cleanings protect products, such as roof shingles, conserving customers money, and also creating less waste in landfills brought on by debris associated with roofing, fence, and deck replacement.
What Types Of Surfaces Can Be Cleaned With Soft Washing?
Along with roof coverings, we cleanse all kinds of building siding, decks, fences, concrete as well as brick surfaces. Soft washing could be utilized on all types of building products consisting of timber, brick, concrete, aluminum, vinyl siding, shingles, and much more!
Is Soft Washing Guaranteed?
We completely assure all our work. We have a 5 year warranty with any roof cleaning!